ASCE+™ HRLV: The Natural Way to Improve Your Hair Health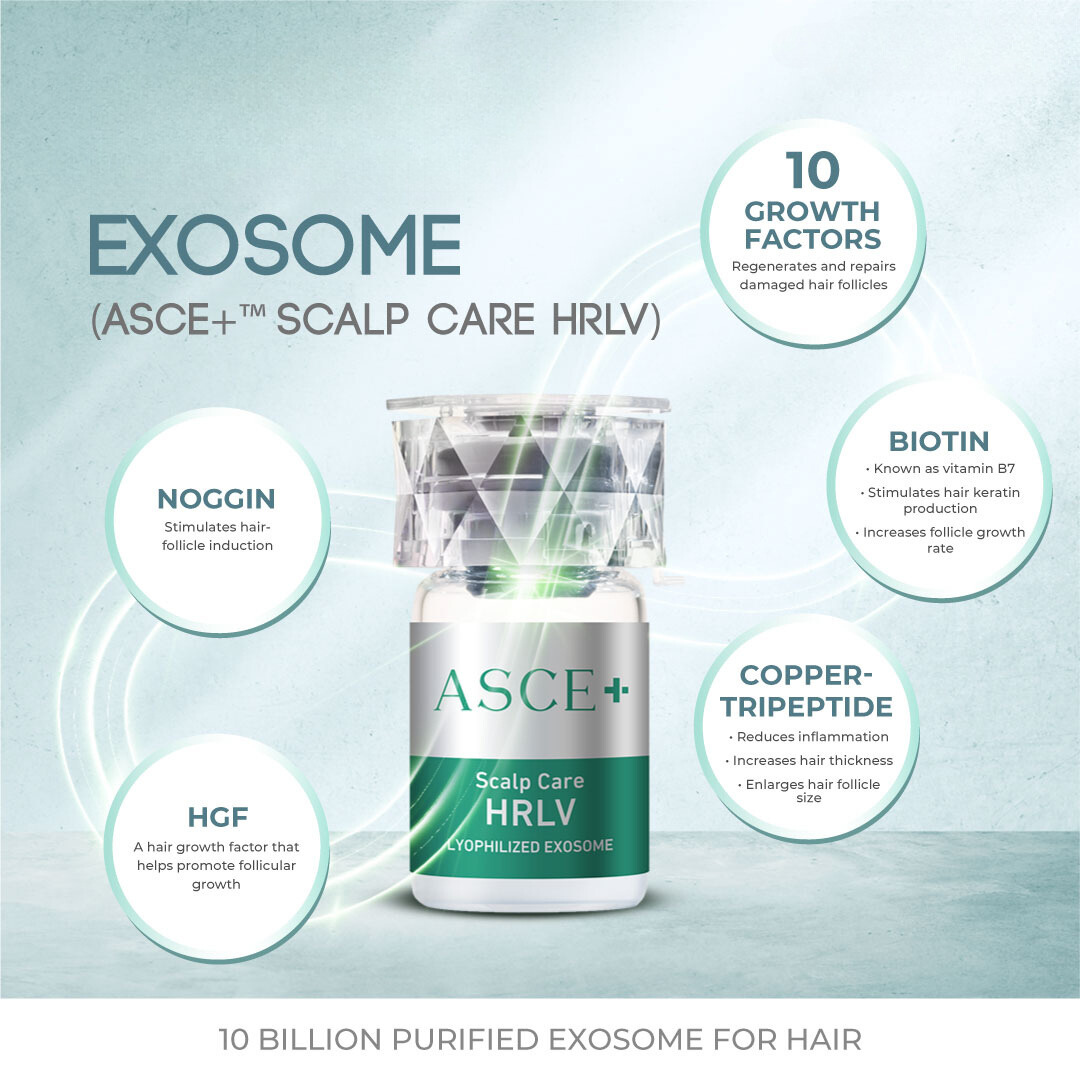 Are you concerned about your hair health? Are you starting to see signs of hair loss or thinning? If so, you're not alone. Millions of people around the world suffer from hair loss, and it can be a very frustrating and embarrassing problem.
But there is hope. ASCE+™ HRLV is a natural and effective way to improve your hair health. ASCE+™ HRLV is a lyophilized powder that contains 10 billion pure exosomes, as well as 10 factors of growth and 30 other nutrients that are beneficial for hair and scalp health.
What is Exosome?
Exosomes are tiny vesicles that are released by cells. They contain a variety of proteins, lipids, and nucleic acids that can have a number of beneficial effects on the body. In the case of ASCE+™ HRLV, the exosomes help to promote the growth of new hair follicles, protect hair from damage, and prevent scalp problems.
In addition to exosomes, ASCE+™ HRLV also contains a number of other nutrients that are beneficial for hair health. These include biotin, copper, zinc, and vitamins A, C, and E. These nutrients help to keep hair strong and healthy, and they can also help to prevent hair loss.
ASCE+™ HRLV is a safe and effective product for both men and women. It is easy to use and can be applied to the scalp directly or mixed with a carrier oil.
Clinical Studies
A clinical study conducted by Dr. Iñigo de Felipe, a Dermatologist with clinics in Barcelona and London, found that ASCE+™ HRLV was more effective than other traditional treatments for hair loss, such as oral dutasteride, minoxidil, or PRP. The study also found that ASCE+™ HRLV was especially effective in the frontal area of the scalp, an area where many other treatments usually fail.
all picture are by Dr. Iñigo de Felipe @defelipederm


Patented Technology
ExoCoBio, the company that developed ASCE+™ HRLV, has made significant investments in research and development. The company's patented technology, ExoSCRT™, is designed to isolate quality exosomes with excellent efficacy and to mass-produce exosomes. As a result of these investments, ExoCoBio has become a global leader in the exosome industry.
Unique Patent
ExoCoBio recently registered a patent for a composition that can rejuvenate hair and prevent hair aging. This patent is the world's first and unique idea to rejuvenate the hair color (i.e., hair returns to its original color).
If you are interested in trying ASCE+™ HRLV, you can contact Klinik Dr Diana, a medical aesthetic clinic in Seremban, that specializes in hair loss and aesthetic medicine